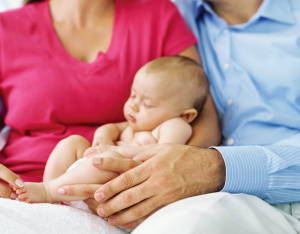 In light of new draft guidelines from NICE around co-sleeping with infants, we're asking; would you co-sleep with your baby?
The National Institute for Health and Care Excellence (NICE) today published new draft guidelines about co-sleeping with infants under one, in a bid to help to reduce the number of babies dying unexpectedly in their sleep.
Recognising that some parents may choose to share a bed with their baby for a multitude of reasons, the updated draft recommendations ask healthcare professionals to make sure parents and carers of children are aware of the potential link between co-sleeping and Sudden Infant Death Syndrome (SIDS).
This follows new research that suggested sharing a bed with a baby could increase the risk of SIDS, even among non-smokers.
What do the guidelines entail?
It's suggested that healthcare professionals advise parents and carers that the association between co-sleeping and SIDS is likely to be greater when they, or their partner, smoke, have recently used drugs and/or drunk alcohol, or if their child had a low birth weight or was born prematurely.
Professor Mark Baker, NICE's clinical practice director, said it's important for parents to understand what the risks are according to the best available evidence: "Falling asleep with a baby, whether that's in a bed or on a sofa or chair, is risky. It's imperative that all parents and carers know about the association between sudden infant death syndrome and falling asleep with a child under the age of one. This is especially important if parents drink alcohol, take drugs or expose their baby to tobacco smoke."
So did you, or do you co-sleep with your children?
As new parents, we chose not to routinely co-sleep. This was mainly because we didn't have a huge bed and I was terrified of squashing my tiny baby. However, at two and a half, my toddler now spends a lot more time sleeping with us if she's upset or wakes in the night. Looking back, co-sleeping would have been a lot easier for breastfeeding and soothing a newborn, and would have meant a lot more sleep for everyone.
Will I co-sleep with our second baby and will the guidelines change my opinion?
Yes and no. As a second-time parent, I think I'm more likely to co-sleep occasionally this time round, especially as we're planning on breastfeeding again. But I want to be fully aware of the facts, so I'm reading and will follow the guidelines, and all the available advice. I'm also looking into co-sleeping cots, so we're close for feeds but all have our own space.
My NCT teacher had a really balanced opinion on co-sleeping, saying that although lots of parents may not plan to do it, most probably will at some point. She said it was important to not feel guilty or that we were doing something 'wrong', but be fully aware of the risks - and benefits - and make sure we knew how to do it safely.
As always, it's a personal choice and an incredibly emotive topic in parenting circles. But whatever your opinion, be aware of the new guidelines, and take the steps to make sure everyone sleeps safely, whoever's bed they are in.
What are your thoughts on the new draft guidelines? Leave a comment and let us know.
You can also read the NCT guidelines on safe co-sleeping, and our reaction to the NICE guidelines on home births.
Gillian blogs over at A Baby on Board about London life as a new mum, covering everything from baby clothes to breastfeeding. She is pregnant with her second child and lives with her toddler daughter and husband Alex in south London.