The summer is the perfect time to make the most of the fresh air, sunshine and get out and about with your baby. If you're breastfeeding, it also means you'll be feeding your outside the privacy of your own home. For lots of new mums, this can sound daunting - but don't let that stop you!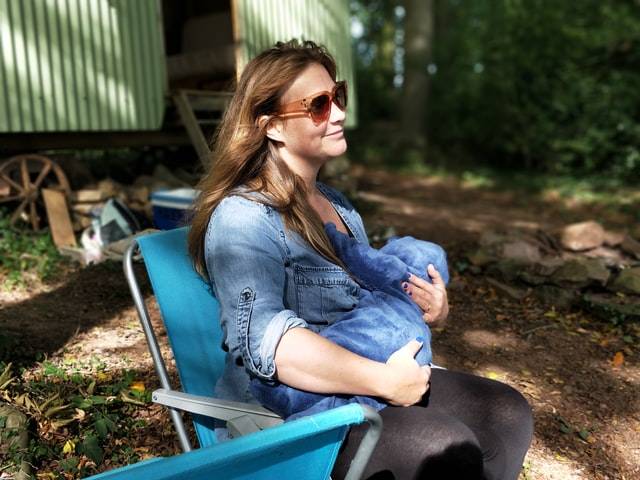 Here's some top outdoor feeding tips from Medela's in house lactation expert Sioned Hilton, who has been working with breastfeeding mothers for more than 20 years:
It is all about being prepared! Take a spare set of dark t-shirts for you as well as a spare set of clothing for your baby, in case of leakage or accidents. We all love our maxi dress for the summer days but these are not practical for breastfeeding mummies as it exposes you a lot more – use a scarf or muslin square to cover you and your baby up to protect you both from the sun.
Another good thing to think about before settling for a feed is giving yourself space. Some places will say you can use the loo, or baby changing area, but bear in mind these can often be quite smelly and to be honest...would you eat your lunch in the loo, so why should your baby? If needs be you can head to a park. There's nothing wrong with sitting on a bench feeding. You can place the buggy in front of you and have some quiet time to yourself.
Now, if you are feeding while abroad in sunny climes (lucky thing!) it is recommended that you protect your breasts and nipples from the sun. Sunbathing topless is not advised as the sun protection creams may give your baby an unpleasant taste when breastfeeding.
Bear in mind is when it is hot your baby may feed more often as they become thirstier. This is absolutely fine, but do ensure you keep your energy levels up and drink lots of water too.
Now to the all important question of alcohol... especially during these sunny BBQ days! If you are enjoying lunch out do bear in mind your alcohol intake if you are a breastfeeding mum. A glass of wine (1-2 units) is ok, but any more may make you feel tipsy and will cross into your milk. You can express your milk beforehand and give this to your baby if you want to let your hair down
And the final thought before you head out...If you've mastered feeding at home, don't let being out and about be a stumbling block. Keep at it and remember people won't be looking as much as you think. Good luck!