Inspired by the amazing new cookbook from best selling cookery author, entrepreneur and Wellwoman Vegan ambassador Roz Purcell, called No Fuss Vegan: Everyday Food for everyone. We have listed below a number of quick and easy recipes that not only look good but taste great (trust us we have tasted them!)
Please let us know if you have tried these recipes and what you thought about them - and if you have any yummy vegan recipes to share.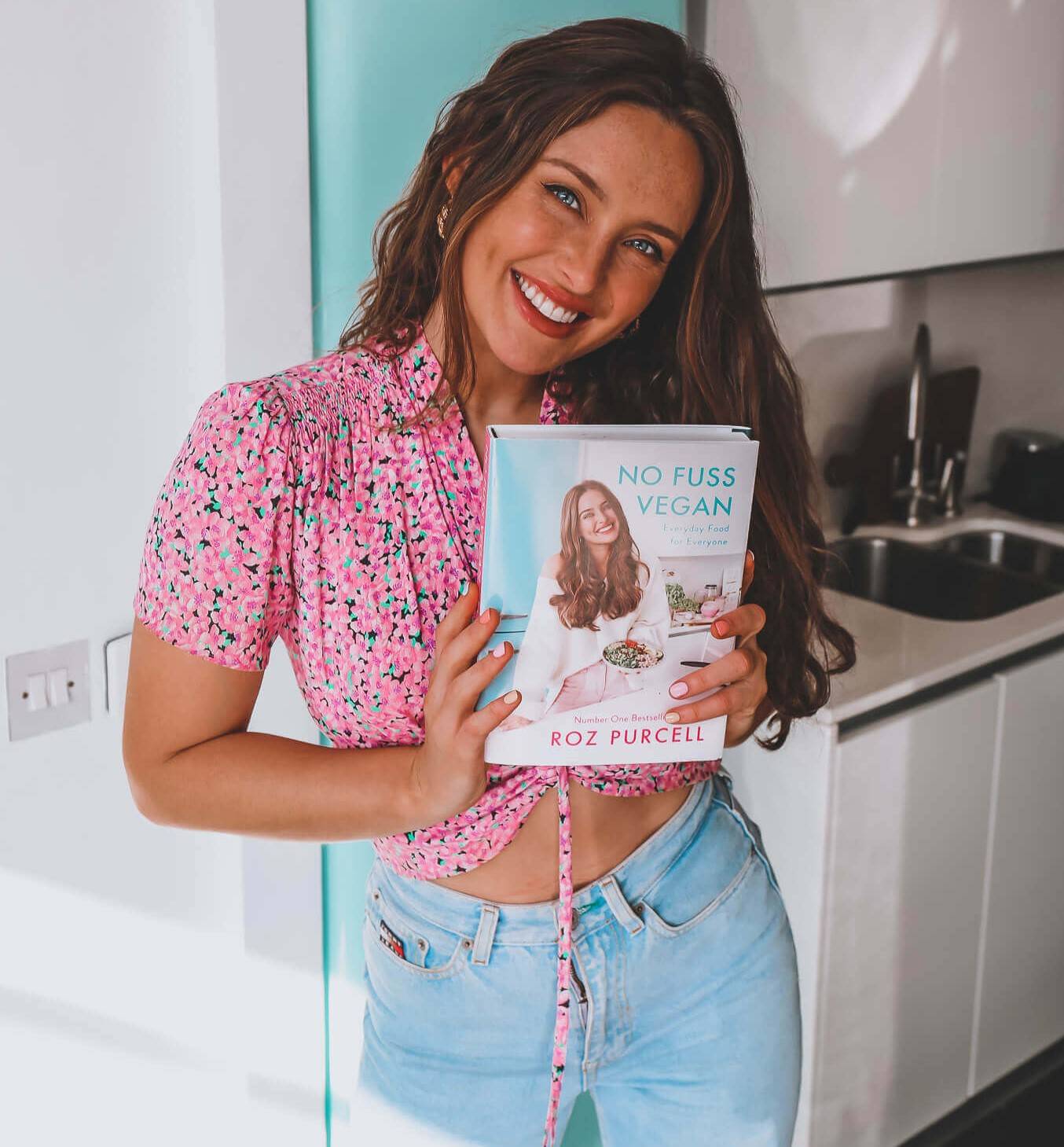 BREAKFAST
Makes 8
BANANA BREAKFAST VEGAN MUFFINS
My favourite kind of breakfast – sweet! The smell of these muffins baking will help you to jump straight out of bed. This recipe makes eight muffins, but if you want to make 12 to fill a muffin tin,scale up the ingredients by 1.5.
oil, forgreasing
2 tbsp milled flaxseeds
6 tbsp water
50g porridge oats
100g ground almonds
2tsp ground cinnamon
1tsp baking powder
½ tsp bicarbonate of soda
1 lemon
2 overripe bananas
3 tbsp nut milk
2tbsp maple syrup
1tsp vanilla extract
250g fresh or frozen blueberries
25g whole almonds, chopped
Preheat the oven to 180°C. Grease eight cups of a muffin tray with a little oil or use paper liners.
Start by combining the milled flaxseeds and water in a small bowl. Let it sit for 15 minutes to bulk up.
Meanwhile, blend the oats into a flour consistency and tip into a bowl along with the ground almonds, cinnamon, baking powder and bicarbonate of soda. Mix well.
Zest the lemon, then juice one half only.
In a separate bowl, mash the bananas, then stir in the soaked flaxseeds, lemon zest and juice, nut milk, maple syrup and vanilla. Pour the liquid mix into the dry ingredients and stir to combine into a thick, smooth batter. Fold in the blueberries.
Spoon the mix into the greased or lined muffin cups, then top with the chopped almonds. Bake in the preheated oven for 25 minutes. Leave to cool for 10 minutes before enjoying. Store in an airtight container in the fridge for up to four days.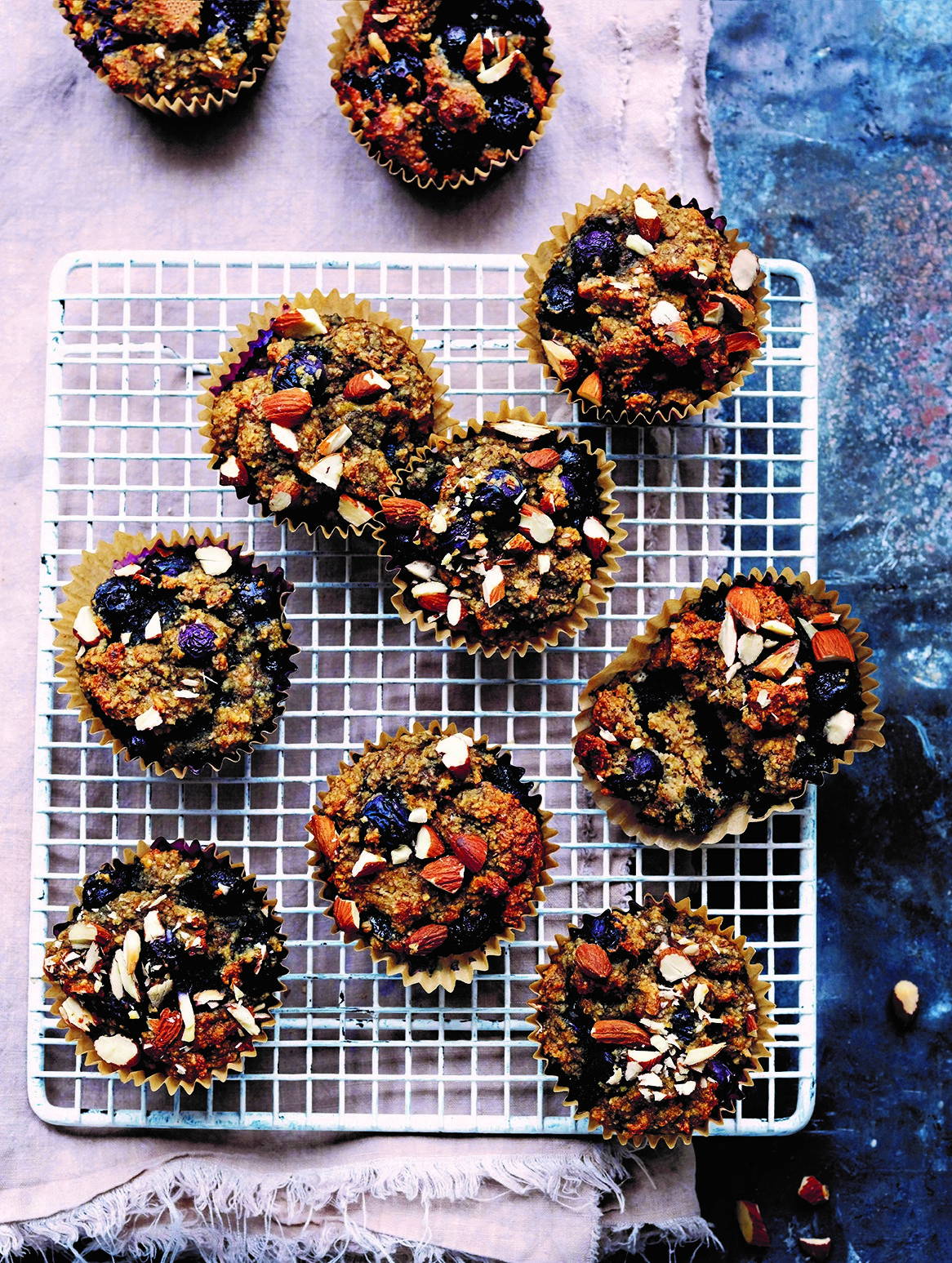 LUNCH
Serves 4
COURGETTE, CHICKPEA AND PEA SOUP
All my favourite things loaded into one bowl! This soup is so smooth, creamy and, most importantly, fast – perfect for those times you get in after a cold day out.
2 tbsp olive oil
2 large courgettes, thinly sliced
800ml hot vegetable stock 1 x 400g tin of chickpeas,
drained and rinsed, with a few reserved as garnish
200g frozen peas, with a few defrosted peas reserved as garnish
4 tbsp vegan basil pesto (page 86), plus extra to garnish
sea salt and freshly ground black pepper
Heat the oil in a large saucepan over a high heat. Add the courgettes and cook for 4 to 5 minutes, until softened. Add the stock and simmer for 8 to 10 minutes, until the courgettes are fully cooked. Stir in the chickpeas, frozen peas and pesto and cook for 1 minute. Blend until smooth with a hand-held blender and season to taste.
To serve, ladle the soup into warmed bowls and garnish with extra pesto and the reserved chickpeas and peas.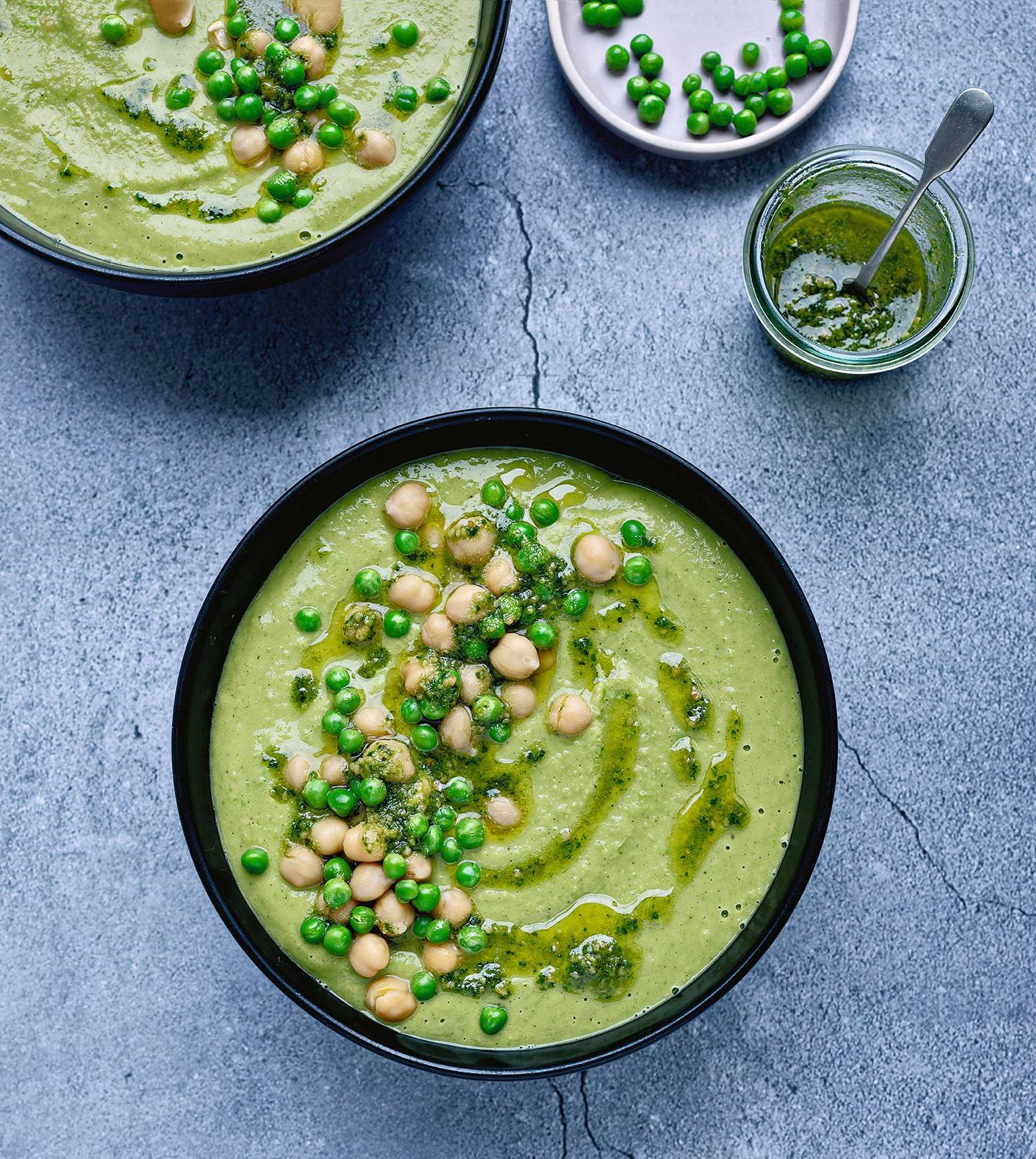 DINNER
Makes 2
SWEET POTATO VEGAN PIZZA
This thin, crisp pizza base with a hint of sweetness goes great with any toppings. I love it with pesto, then loaded up with ricotta, red onion and crispy kale, but you can use whatever toppings you like or whatever you have in your kitchen. The base also freezes well, so I always make a few at a time for an even faster Friday night dinner.
For the base:
400g sweet potato, peeled and diced
200g oats (porridge, rolled or jumbo oats will all work)
2 tbsp dried oregano
2 tbsp olive oil, plus extra for greasing
For the toppings:
vegan basil pesto (page 86) cashew cheese (page 186) sweet red onion (page 62) crispy kale
pine nuts
Preheat the oven to 200°C. Grease two pizza pans or large baking trays with a little oil.
Steam the sweet potato on the hob or in the microwave (see page 94) until tender.
Meanwhile, blitz the oats to a flour consistency in your blender, then tip into a medium-sized bowl.
Put the steamed sweet potato in the blender along with the oregano and olive oil and blend until smooth. Pour into the bowl with the oat flour and use a spoon to combine into a dough.
Split the dough in half. Working with one half at a time, tip the dough out onto a clean surface (you shouldn't need any extra flour for dusting and rolling) and roll it out nice and thin into a 20cm circle. Repeat with the other half.
Use a spatula to lift the dough onto the greased pizza pans or trays. Bake in the preheated oven for 25 minutes.
Remove from the oven and flip the base over, then add your toppings. Place the pizza back in the oven for 5 to 8 minutes, depending on your toppings. Remove from the oven and allow to stand for 1 minute before cutting into slices.
DINNER
Serves 2
CHICKPEA AND COURGETTE CURRY
This really is a curry in a hurry. Wake up your sinuses and get your plates ready!
50ml water
1 onion, peeled and diced very finely
2 garlic cloves, peeled and grated
1 x 5cm piece of fresh ginger, peeled and grated
3 tbsp shop-bought curry paste (I use red)
2 courgettes, diced into small chunks
1 x 400g tin of chickpeas, drained and rinsed
1 x 400g tin of chopped tomatoes
1 x 400ml tin of coconut milk
150g baby spinach, chopped juice of 1 lime
1 tbsp tamari or soy sauce
To serve: boiled basmati rice
Heat the water in a large deep saucepan over a high heat. Add the onion and let it sizzle for 1 minute to soften. Toss in the garlic, ginger and curry paste and cook for 1 minute, stirring constantly. Add the courgettes, chickpeas, tomatoes and coconut milk and stir to combine everything. Bring to the boil, then lower the heat and let it simmer for 5 minutes. Stir in the spinach, lime juice and the tamari or soy sauce and cook for 1 minute before removing from the heat and serving with boiled basmati rice.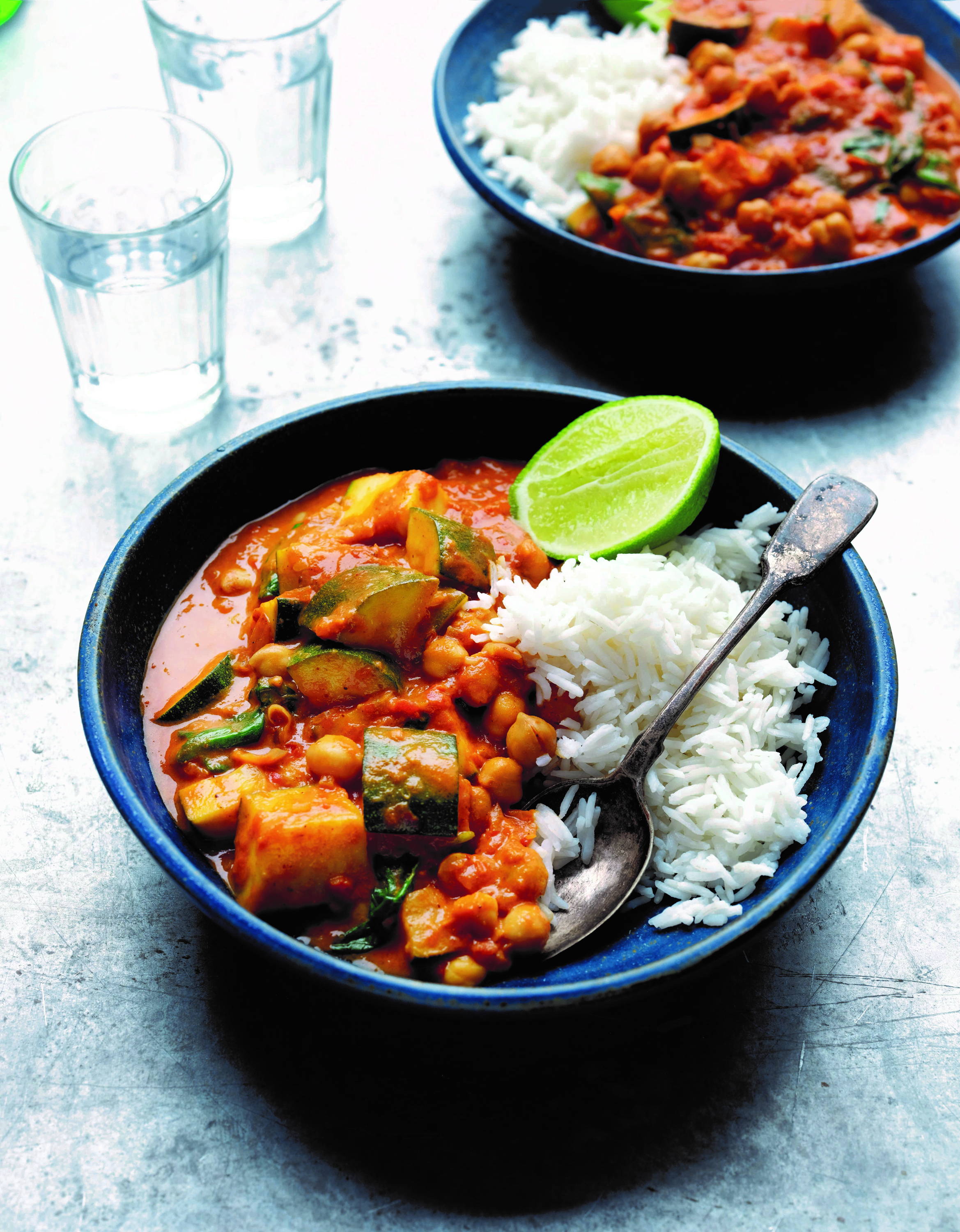 SIDES
Serves 2
CRUNCHY BAKED GARAM MASALA CAULIFLOWER WITH PARSLEY SAUCE
This is one of my favourite sides –crisp, packed with flavour and easy. One great thing about this recipe is how versatile it is. For example, by breaking the cauliflower into florets you can make bites that are perfect for tacos, canapés or wraps.
5 tbsp olive oil
2 tbsp garammasala
1 tbsp curry powder
pinch of sea salt
1 head of cauliflower,cut in half down the middle
40g toasted flaked almonds
20g dried cranberries
For the parsley sauce:
120g soy or coconut yogurt
juice of 1 lemon
small handful of fresh flat-leaf parsley leaves
Preheat the oven to 200°C. Combine the olive oil, spices and salt in a small bowl. Place the cauliflower in a baking dish and drizzle over the spiced oil. Use your hands to rub it all over the cauliflower to cover it fully. Bake in the preheated oven for 40 minutes, until tender and golden brown. While the cauliflower is in the oven, blitz the yogurt, lemon juice and parsley in a blender for 30 seconds. The yogurt will turn a minty green colour and the parsley should be barely visible. Once the cauliflower is cooked, cut each half in half again to make four wedges. Drizzle each wedge with the sauce,then scatter over the toasted flaked almonds and dried cranberries.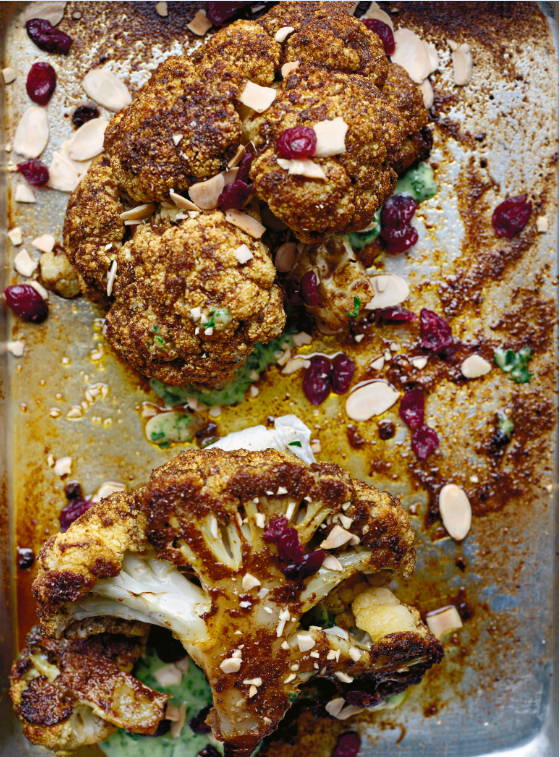 SNACKS
Serves 2
VEGAN SAUSAGE ROLLS
Promise me you'll make these – they are so easy and unbelievably tasty. This recipe also uses the one thing that I can never make myself: puff pastry. Believe me, I've tried, but it's impossible! Luckily you can just pick up a roll of vegan puff pastry in most supermarkets now to save yourself the trouble!
1x400g tin of chickpeas, drained and rinsed
50g pecans
50g whole almonds
1 tbsp olive oil, plus extra for drizzling
½ a large onion, peeled and grated
½ an apple, grated (skin on is fine)
1 large garlic clove, peeled and crushed
1 sprig of fresh rosemary, needles stripped and chopped
1 sprig of fresh thyme, leaves stripped and chopped
2 tbsp nutritional yeast (optional)
2 tbsp tomato purée
1 tbsp tamari or soy sauce
1 sheet of vegan puff pastry
handful of sesame seeds
Preheat the oven to 180°C. Line a baking tray with non-stick baking paper. Put the chickpeas in a food processor and blend until smooth (ish).There will still be some chickpeas visible and it will be a thick, lumpy paste. Spoon into a bowl. Put the pecans and almonds in a high-speed blender (such as a NutriBullet) and mill into a chunky flour. Set aside. Heat the oil in a frying pan over a medium-high heat.Toss in the onion, apple and garlic and cook for 2 minutes. Add the herbs and cook for a further 1 to 2 minutes, until the onion is golden and softened. Add to the chickpeas and stir to combine. Add the milled nuts to the chickpea mixture along with the nutritional yeast(if using), tomato purée and the tamari or soy sauce and stir again into a thick dough. It will be a little wet, but it should still be easy to roll with your hands. Unroll the pastry sheet onto a clean board and slice it lengthways to make two long strips of pastry, stretching it just a little bit on each side using your hands. Spoon the chickpea mixture into the middle and mould it into a long sausage shape. Fold the pastry over the filling, then press the edges of the pastry with your fingers, sealing it tight. Slice into 12 mini sausage rolls. Carefully lift the rolls onto the lined baking tray. Drizzle with a little olive oil, then sprinkle over the sesame seeds. Bake in the preheated oven for 25 minutes, until golden around the edges.