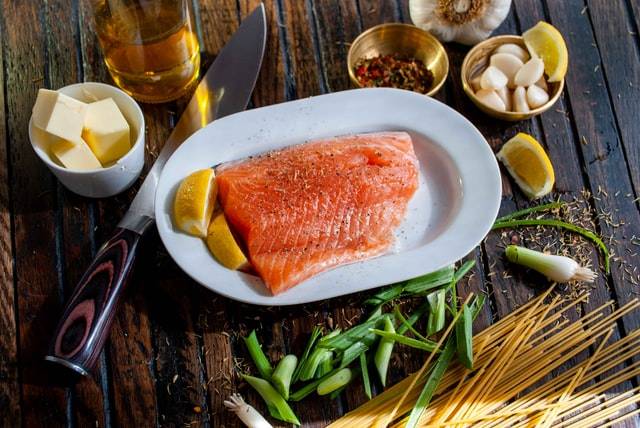 Our health and development rely on nourishing food at every age. For children, they rely on us for essential nutrition. As a parent, it is vitally important to be aware of the essential vitamins and minerals required to support growth, development and how best to get these nutrients into their diet.
What Is Omega-3 And Why Is It An Essential Fatty Acid?
Omega-3 is comprised of two essential fatty acids; Docosahexaenoic acid (DHA) and EPA (Eicosapentaenoic acid). They are classed as 'essential' fatty acids as they cannot be produced by the body efficiently and must be obtained through diet.  
There is a wealth of research surrounding the benefits of omega-3, but most recently, results from the National Diet and Nutrition Survey (NDNS) suggests that the consumption of oily fish (which is the main source of beneficial Omega-3 fatty acids), remains low.
What Are The Best Food-Based Sources Of Omega-3?
Typically, omega-3 is found in oily fish and it is recommended that children eat at least one portion every week.
Good food-based sources of omega-3 include:
Mackerel
Sardines
Trout
Tuna
Salmon
However, as many parents may sympathise with, some children do not enjoy the taste of oily fish and as such, it can be very tricky to ensure that your child is getting all of the essential fatty acids.
How To Get Fussy Eaters To Eat Oily Fish As Part Of A Well-Balanced Diet?
We know how tricky it can be to get adequate omega-3 ingredients into your child's diet, so we've got some ideas on how to make oily fish palatable for young palettes. Read on for 5 kid-approved oily fish recipes:
This recipe from BBC Good Food is a surefire way to get kids to eat oily fish. Cooked salmon mixed with mashed potato, then breaded and baked, why not make in advance and freeze for a quick omega-3 fix!
Tinned tuna mixed with cooked pasta spirals, sweetcorn and tomatoes, topped with cheese and baked in the oven. This is a cheap, quick and easy evening meal that's just as good the next day for a lunchbox treat.
Pick up a pack of fresh fish pie mix from your fishmonger and create an easy evening meal that your kids will love, with the added omega-3 nutrients from the oily fish.
Kids will enjoy helping out in the kitchen when you make these omega-3 rich trout pancake parcels.
Smoked mackerel pate
This mackerel pâté is very simple to make and is perfect served as an afternoon snack on crackers.
Omega-3 Supplements For Kids
Vitabiotics have a range of great tasting omega-3 chewable supplements for kids;
The Wellkid Omega-3 Chewable is suitable for children between the ages of 4 - 12 years old and for younger children aged between 3 - 7 years old, the Wellkid Peppa Pig Omega-3 vitamin supplements for kids are a great choice.
This article should not be taken as medical advice, but if you're worried about the level of omega-3 fatty acids in your child's diet, then it's worth speaking to your GP, who will be able to advise you in your specific circumstances.