We'd like to welcome our newest pregnancy blogger, who'll be writing about everything you can expect when you're expecting - but this time with a twist...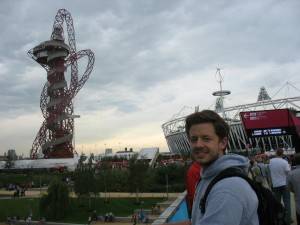 Joining the rising trend of blogging dads, John is a thirty-something future father, who lives in London with his wife. They're expecting their first baby towards the end of the year. John will be writing all about pregnancy - from gadgets, shopping and NCT classes - from the fathers' point-of-view. So handing over to him...
I'M GOING TO BE A DAD! Sorry I just have to remind myself sometimes. I'm hoping it's natural to feel that way and no doubt the second he or she arrives I'll instantly be in awe and forget what life was ever like without a baby.
So far it's been a pretty steep learning curve, from comprehending the price of buggies (they cost almost twice as much as my golf clubs!) to knowing how many nappies a day we're going to have to change initially, I've heard upwards of 10...anyone who knows differently, please feel free to correct me.
My main source of information at the moment is an app on my phone. Every Monday it tells me the a new fruit or vegetable that the baby is as big as which I find almost as exciting as when opening a present at Christmas – every Dad-to-be should have the 'What to Expect' app. But the fun part of the app aside it's been great to tell me how Lydia might be feeling and of the potential side effects that she could be experiencing. My next step is to start reading the rather large hardback guide to being a dad that someone has bought me but I'm thinking I'll hold off on doing that until week 30 (only two and a bit weeks to go then).
I'll be writing a few more posts over the coming months to share my experiences of impending fatherhood so I hope you like them and if you have any words of wisdom or thoughts on my posts please do share them.
Are you a first-time dad-to-be? What are you most looking forward to...or worried about?