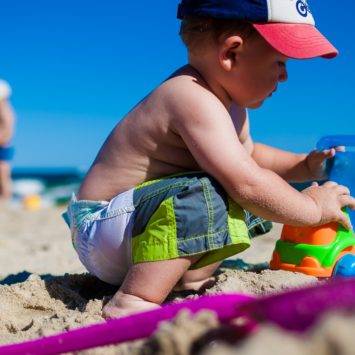 With the weather finally heating up, we're looking at sun safety tips for children's skin
We don't want to jinx it, but with two hot days in a row it looks like summer might be finally on the way. Quick, find the sun hats and get out the paddling pool!
With the warm weather heating everyone up it's only natural your little ones will be spending more time outside. Park trips, outdoor picnics and playing in the garden are all regular events, with lots of exposure to the elements. So you need to make sure their skin is protected and they are sun-safe.
To help you out, here's some tips from organic skincare brand Green People on making sure your children's skin is safe.
SUN SAFETY TIP 1: Children are more susceptible to synthetic chemicals as their bodies are still developing, plus their skin has greater sensitivity to sunlight. This is why it's important to choose a natural sun screen. Pores that are blocked by waterproof chemical sun lotions can potentially lead to Prickly heat, instead of synthetic pore-clogging ingredients.
SUN SAFETY TIP 2: Using the right amount of sun lotion is really important, about 10-15ml - about half a shot glass - depending on the child's size for every 2 hours they are in the sun. Research indicates that under-applying significantly reduces the SPF achieved and the higher the SPF rating the greater the reduction. Under-applying an SPF30 decreases protection to an SPF5.5, under-applying an SPF50 will decrease the protection to an SPF7
SUN SAFETY TIP 3: Did you know that an SPF50 sun lotion only filters out 1% more UVB light than Spf30? SPF ratings higher than 30 are sometimes used by sun care companies as a marketing tool, and may mislead consumers about what level of protection that products actually offer. Higher SPF ratings can encourage people to spend longer in the sun, on the assumption that the higher factor will protect them for longer. However, an SPF rating says nothing about the protection from UVA rays, which cause the longer-term, deeper cell damage, and by prolonging sun exposure times higher SPF sun lotions may increase UVA-caused skin damage.
How many of these tips did you know? Make sure they are as covered up as stay out of direct sunlight (especially during the middle of the day) and stay hydrated. Check out the Green People website here.
Make sure you read our posts on picnic tips and keeping cool with a summer pregnancy.