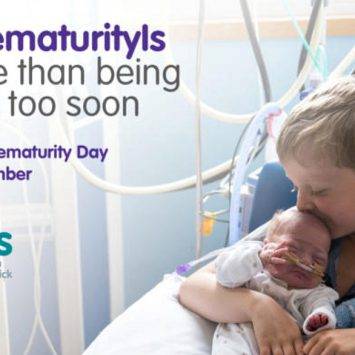 Did you know today is World Prematurity Day? Here's how you can get involved
November 17th each year is World Prematurity Day, a global day for raising awareness of premature births. Over 15 million babies are born early each year and this can have a significant impact on the children, parents and families who are affected.
Vitabiotics and Pregnacare are proud to support the work of Bliss, the charity for families of babies born too soon or sick. Thanks to Bliss, this year we're featuring the emotional story of Ben and a dad's perspective on having a premature baby; make sure you read it.
Here are the key messages Bliss would like everyone to know this World Prematurity Day 2018:
#PrematurityIs more common than you think.
#PrematurityIs costing lives.
#PrematurityIs often unpredictable and in most cases, unexplained.
For babies it can mean the biggest fight of their lives and for family and friends it can leave them asking, why?
#PrematurityIs not what most parents expect when they are having a baby.
The emotional and financial burden of having a baby in neonatal care can be devastating.
How can you get involved in World Prematurity Day and support Bliss?
On 17 November this year, Bliss want people to join in by sharing what #PrematurityIs to you. Whether you are a parent, family member or friend, healthcare professional, researcher, someone who was born prematurely, or someone who has been touched by the needs of premature babies, tweeting a message using the #PrematurityIs hashtag.
You can also follow Bliss on Twitter and Facebook; like and share posts where possible.
If you want to donate to Bliss this will help provide emotional support to families, provide specialist training to medical professionals and help fund vital research into prematurity. You can also take part in a Little Lights event across the country.
Vitabiotics and TalkMum are proud to support Bliss and sponsor the Bliss helpline, which you can reach via email on hello@bliss.org.uk.