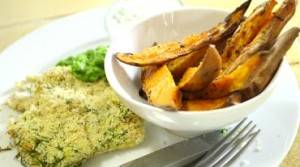 Do you enjoy cooking for your family, but find yourself relying on the same old couple of recipes? Do you like making food that's quick and easy, without resorting to takeaways? And want to avoid looking in the fridge with dread at the end of a busy day? Well read on...
Although I do find the actual process of making food quite relaxing, I'm not a naturally creative cook and find it difficult to constantly come up with new things to make. Especially when I have a million other things to think about at once!
With a solution to every family's foodie woes, Celebrity Masterchef winner Lisa Faulker - herself a busy working mum - has teamed up with Aviva to create some healthy recipes suitable for everyone of all ages.
The one that caught my eye is the recipe for healthy fish 'n' chips - something I'd never really think to make as it seems like such a guilty pleasure. But a healthy version? Bring it on!
The recipe serves 2, so would be great for two adults, or one big portion and one child-sized one.
If you want some extra assistance. a video of Lisa making her recipe can be seen here: http://youtu.be/sLHq4nppGyY
Ingredients for healthy fish 'n' chips:
4 Sweet Potatoes
Olive Oil
Salt & Pepper
Fillet of Halibut
1 tbsp Fresh Dill
2 Lemons
1 Egg
100g Breadcrumbs
Flour
100g Natural Greek Yoghurt
25g Gherkins
½ Garlic Clove
Lemon Zest
Lemon Juice
10g Chopped Capers
Chopped Parsley Leaves
250g Frozen Peas
100ml Stock
Chopped Mint Leaves
Knob of Butter
Method:
Chop 4 sweet potatoes into chunky chips. Leave the skin on and lightly coat in olive oil. Season with salt and pepper and pop in the oven for 25-30 minutes at 190C.
Mix a tablespoon of fresh, chopped dill, 100g of breadcrumbs and grated lemon rind in a shallow bowl. Put flour and a beaten egg in separate bowls. Dust the halibut in the flour. Dip it in the egg and then the breadcrumb mix. Place on a baking tray and cook for 9-12 minutes at 190C.
Mix 100g of Natural Greek Yoghurt, 25g gherkins, ½ crushed garlic clove, grated lemon zest, juice of ½ lemon, 10g chopped capers and a few chopped parsley leaves into a bowl and mix together.
Cover 250g frozen peas with 100ml stock and simmer for 3-4 minutes in cold water. Add a few chopped mint leaves. Add a knob of butter and put in a blender. Season to taste and pop it in the pan to keep warm.
Lisa says: "This is a delicious, nutritious and sustainable take on a British classic. If you're cooking with kids, make them your 'chief tester' so they'll try everything!"
Let us know if you make it!
Gillian blogs over at A Baby on Board about London life as a new mum, covering everything from beauty to baby clothes and breastfeeding.
She lives with her one year old daughter Eliza and husband Alex in south London.