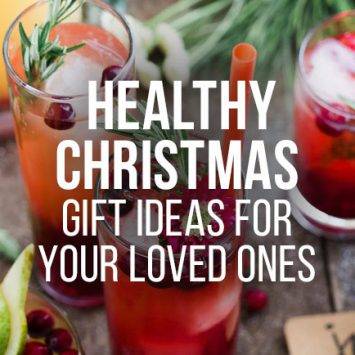 With sugar-filled foods and endless all-you-can-eat Christmas buffets, the festive period can take a toll on our health. Combine this with the days getting colder and the motivation to move decreasing; Christmas can often leave us feeling a bit lethargic.
Why not treat your loved ones to a healthier gift this Christmas, to help keep them feeling their best throughout December? We've created our very own healthy gift guide, to help you choose the perfect health conscious gift this Christmas.
The perfect gym accessories
If you know your loved one loves to spend their time in the gym, why not help boost their new year motivation with some new gym accessories?
This can be a brand new water bottle, a fitness watch or even the latest sports gear. Sustainable water bottles have become a growing trend in the fitness industry, so popping a reusable water bottle under their tree could be a great gift for your health and plastic conscious friends.
Even something as small as a new pair of gym shoes or a brand new gym bag can make a big impact.  
Creating your own health hamper
With Pinterest's rise in popularity, DIY Christmas hampers have become a go-to for those struggling to think of the perfect gift. Why not create your own healthy hamper this Christmas and fill it with nutritious foods and vitamin supplements?
In your health hamper you could include items such as protein bars or powders, vitamin supplements like our Vitabiotics Wellwoman supplements for her, or Wellman for him. You could also pack some Christmas themed healthy snacks, such as chestnuts and cranberries, or a homemade sugar-free Christmas punch.
Looking after the mind and the body
When thinking about healthy Christmas gifts, it's important to think about both physical and mental health.
If you're looking for healthy Christmas gifts for her, why not look for aromatherapy bath salts, burners or candles. These all make excellent gifts and can also aid with soothing and calming the mind.
Books on self-care, mindfulness and mindful eating can also be extremely helpful and excellent stocking fillers. If books aren't their thing, why not splash out on a deluxe yoga retreat or meditation getaway?  
Find out more about mindfulness, here.
Giving the gift of nutrition
Christmas is a notorious time for over-indulging, so keep your loved ones on track. Gifting items such as high-speed blenders, food processors or juicers, can all help boost nutrition over Christmas.
With an increase in healthy food subscription packages like HelloFresh, grabbing a gift card or subscription could also be a great way of giving the gift of nutrition. You can even set it up to start in the new year, to help them start off on the right foot.
If you'd like to find out more about all of our Wellwoman and Wellman supplements and see which products would fit well in your healthy Christmas gift hamper, head over to our online store.